Skid plate BMW R1250GS / R1250GSA ( 2019 - 2022 ) - Black
Reference AX1600
In stock
Skid plate BMW R1250GS / R1250GSA ( 2019 - 2022 ) - Black
Un surcoût lié au dimension du colis pourront s'appliquer au moment de valider votre commande
Skid plate BMW R1250GS / R1250GSA , light weight and complete protection for the engine and cases ! Made of HDPE plastic polythylen 8mm thick, the total weight is only 2.7Kg, all included ! Contrary to alloy and stenless steel, our innovative HDPE mounts cut in the mass offer a robust resistance and flexibility to absorb chocs and not undergo déformations. Polyethylen attenuates in a unique way the noise provocated by rock or other debris hitting an alloy plate. Its flexibility absors heavy impacts and avoid to sort out the plate by facilitating the handling. This bashplate is supplied with a grey sticker, has been tested and approved after months of testing by BMW off-road professional instructors and riders. We warranty the compatibility with the BMW OEM crash bars and center stand ONLY. Any other crash bars or center stands may require some modifications which are not guaranteed by AXP Racing. This product is guaranteed against premature breakage however, as a skid plate is a consumable part,we don't support a normal use. It does not fit for all model years :
Check compatibility with my bike
Consult the general conditions of sale.
Select your bike to discover the compatible products
Don't hesitate to share and follow !
Compatibility with other accessories
Fitment and compatibility with any other accessory not listed above cannot be guaranteed with your purchase. Any changes made by you are your sole responsibility and cannot be taken care of afterwards.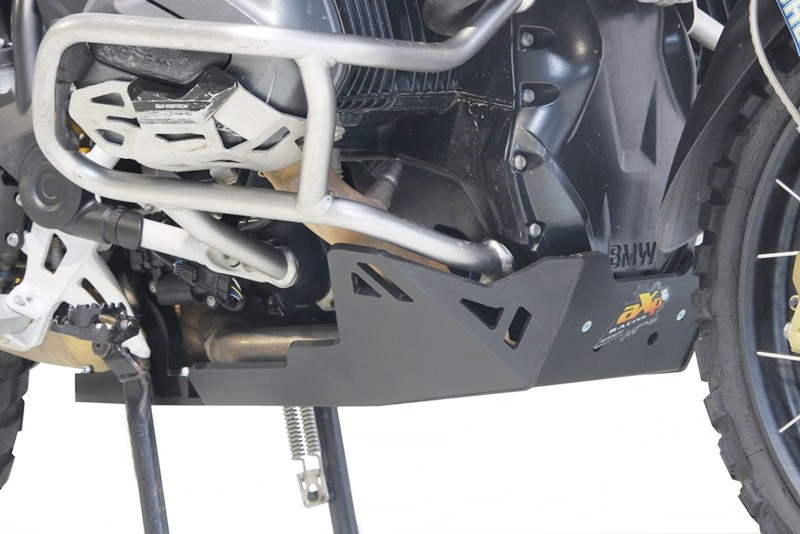 | Selection | Brand | Type | Year |
| --- | --- | --- | --- |
| | BMW | R1250GS | 2019 |
| | BMW | R1250GS | 2020 |
| | BMW | R1250GS | 2021 |
| | BMW | R1250GSA | 2019 |
| | BMW | R1250GSA | 2020 |
| | BMW | R1250GSA | 2021 |
| | BMW | R1250GS | 2022 |
| | BMW | R1250GSA | 2022 |
Select your bike to discover the compatible products