Gas-Gas MC250F / EX250F / EX350F Xtrem Skid Plate ( 2021 - 2023 ) - Black
Reference AX1588
In stock
Gas-Gas MC250F / EX250F / EX350F Xtrem Skid Plate ( 2021 - 2023 ) - Black
GasGas MC250F / EX250F / EX350F Xtrem Skid plate. The Xtrem AXP Racing skid plate is designed differently than the MX / SX line. This model integrates a complete protection of the frame until below the footrests. It also wraps the water pump completely and protects the connecting rod with its extra thickness (16mm in total under the connecting rod). Polyethylene is a material 40% lighter than aluminum which does not undergo deformation, does not generate resonance or vibrations and ages better over time. This skid plate can only be mounted on the MC250F - EX250F - EX350F models. WARNING this reference is not compatible for all years.
Check compatibility with my bike
Consult the general conditions of sale.
Select your bike to discover the compatible products
Compatibility with other accessories
Fitment and compatibility with any other accessory not listed above cannot be guaranteed with your purchase. Any changes made by you are your sole responsibility and cannot be taken care of afterwards.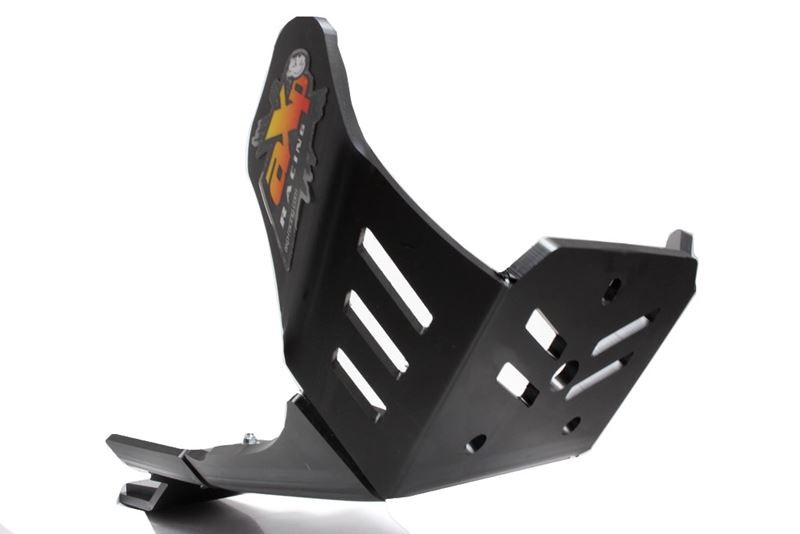 | Selection | Brand | Type | Year |
| --- | --- | --- | --- |
| | Gas-Gas | MC250F | 2021 |
| | Gas-Gas | EX250F | 2021 |
| | Gas-Gas | EX350F | 2021 |
| | Gas-Gas | MC250F | 2022 |
| | Gas-Gas | EX250F | 2022 |
| | Gas-Gas | EX350F | 2022 |
| | Gas-Gas | MC250F | 2023 |
| | Gas-Gas | EX250F | 2023 |
| | Gas-Gas | EX350F | 2023 |
Select your bike to discover the compatible products