2019 - 2022 KTM 250 / 350 SX-F / XC-F Skid Plate - Orange
Reference AX1508
In stock
2019 - 2022 KTM 250 / 350 SX-F / XC-F Skid Plate - Orange
KTM 250 / 350 SX-F / XC-F Skid plate. Weight : 0.6 Kg. The HDPE AXP plastic engine protection skid plate is designed for motocross, supercross and classic enduro use. Made of 6mm thick polyethylene, it covers the underside of the frame, protects the engine and crankcases from projections. Unlike aluminum, the HDPE absorbs impacts, does not undergo deformations, does not generate vibrations and is 40% lighter. A motor skid plate is a consumable, so the products are only guaranteed in case of premature breakage of the product. This engine protection skid pate is also available in black under the reference AX1503. This model can be mounted on KTM 250SXF – KTM 350SXF – KTM 250XCF – KTM 350XCF only. WARNING this reference is not compatible for all years.
Check compatibility with my bike
Consult the general conditions of sale.
Select your bike to discover the compatible products
Compatibility with other accessories
Fitment and compatibility with any other accessory not listed above cannot be guaranteed with your purchase. Any changes made by you are your sole responsibility and cannot be taken care of afterwards.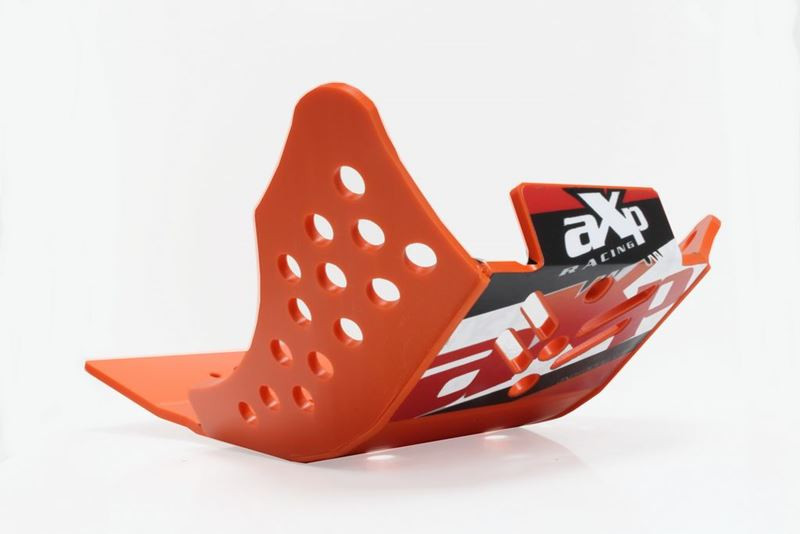 | Selection | Brand | Type | Year |
| --- | --- | --- | --- |
| | KTM | 250SXF | 2019 |
| | KTM | 250SXF | 2020 |
| | KTM | 250SXF | 2021 |
| | KTM | 250SXF | 2022 |
| | KTM | 350SXF | 2019 |
| | KTM | 350SXF | 2020 |
| | KTM | 350SXF | 2021 |
| | KTM | 350SXF | 2022 |
| | KTM | 250XCF | 2019 |
| | KTM | 250XCF | 2020 |
| | KTM | 250XCF | 2021 |
| | KTM | 250XCF | 2022 |
| | KTM | 350XCF | 2019 |
| | KTM | 350XCF | 2020 |
| | KTM | 350XCF | 2021 |
| | KTM | 350XCF | 2022 |
Select your bike to discover the compatible products