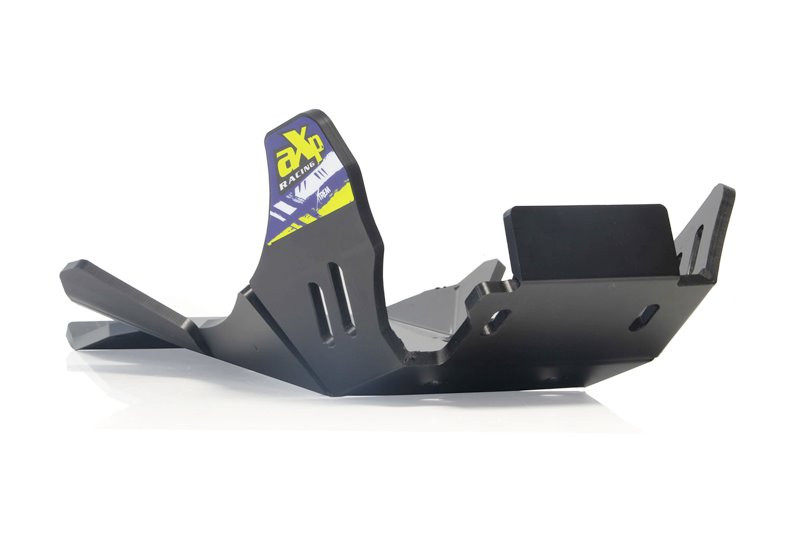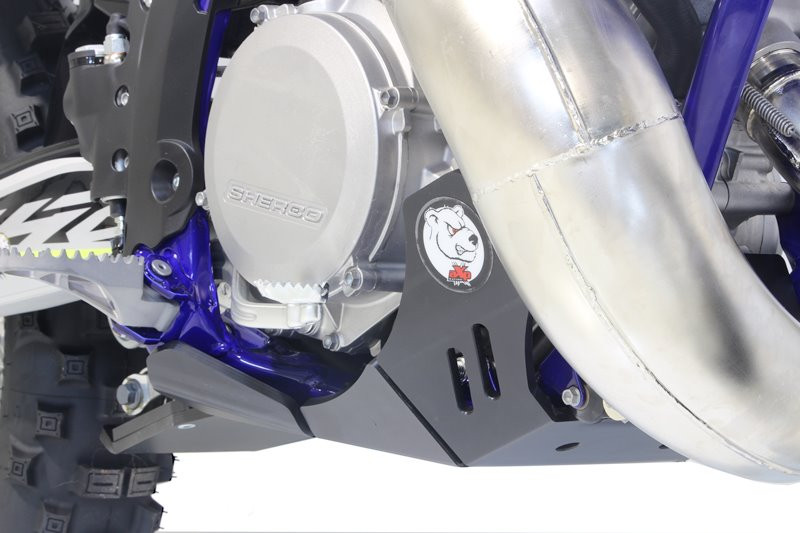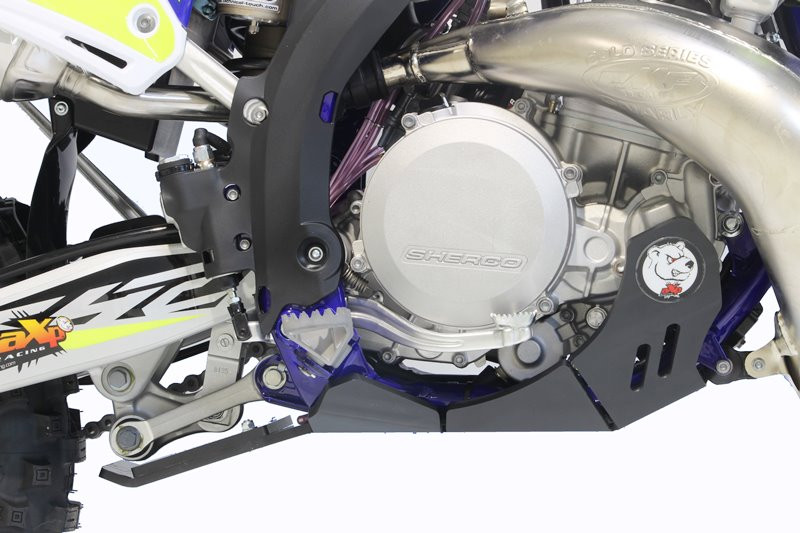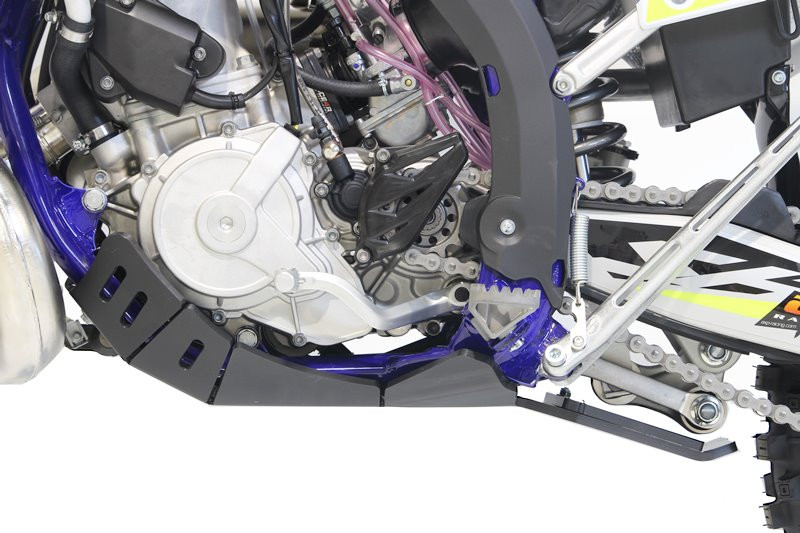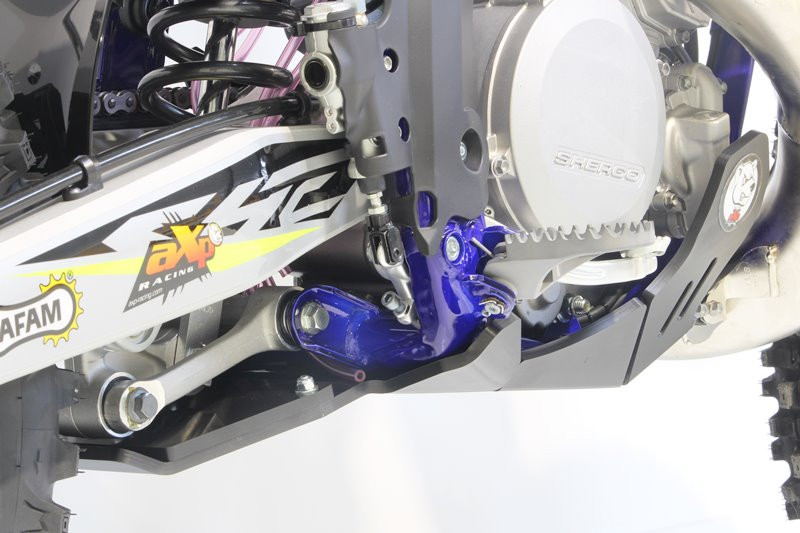 Skid plate Sherco 250SER / 300SER with linkage guard ( 2014 - 2023 ) - Black
Reference AX1424
Sherco 250SER / 300SER Xtrem Skid plate. Weight : 1.2 Kg. The Xtrem AXP Racing skid plate is designed differently than the MX/SX line. This model integrates an integral protection of the frame until below the footrests. Polyethylene is a material that is 40% lighter than aluminum and does not deform, generate resonance or vibrations and ages better over time. The protection is also available in blue under the reference AX1434. This skid plate can only be mounted on models 250SE RACING - 300SE RACING - 250SE FACTORY - 300SE FACTORY - 250SC FACTORY - 300SC FACTORY. WARNING this reference is not compatible for all years.
Check compatibility with my bike
Consult the general conditions of sale.
Machine compatibility
| Brand | Type | Year |
| --- | --- | --- |
| Sherco | 250SE FACTORY | 2014 |
| Sherco | 250SE FACTORY | 2015 |
| Sherco | 250SE FACTORY | 2016 |
| Sherco | 250SE FACTORY | 2017 |
| Sherco | 250SE FACTORY | 2018 |
| Sherco | 250SE FACTORY | 2019 |
| Sherco | 250SE FACTORY | 2020 |
| Sherco | 300SE FACTORY | 2014 |
| Sherco | 300SE FACTORY | 2015 |
| Sherco | 300SE FACTORY | 2016 |
| Sherco | 300SE FACTORY | 2017 |
| Sherco | 300SE FACTORY | 2018 |
| Sherco | 300SE FACTORY | 2019 |
| Sherco | 300SE FACTORY | 2020 |
| Sherco | 250SC FACTORY | 2014 |
| Sherco | 250SC FACTORY | 2015 |
| Sherco | 250SC FACTORY | 2016 |
| Sherco | 250SC FACTORY | 2017 |
| Sherco | 250SC FACTORY | 2018 |
| Sherco | 250SC FACTORY | 2019 |
| Sherco | 250SC FACTORY | 2020 |
| Sherco | 300SC FACTORY | 2014 |
| Sherco | 300SC FACTORY | 2015 |
| Sherco | 300SC FACTORY | 2016 |
| Sherco | 300SC FACTORY | 2017 |
| Sherco | 300SC FACTORY | 2018 |
| Sherco | 300SC FACTORY | 2019 |
| Sherco | 300SC FACTORY | 2020 |
| Sherco | 250SE RACING | 2014 |
| Sherco | 250SE RACING | 2015 |
| Sherco | 250SE RACING | 2016 |
| Sherco | 250SE RACING | 2017 |
| Sherco | 250SE RACING | 2018 |
| Sherco | 250SE RACING | 2019 |
| Sherco | 250SE RACING | 2020 |
| Sherco | 250SE RACING | 2021 |
| Sherco | 300SE RACING | 2014 |
| Sherco | 300SE RACING | 2015 |
| Sherco | 300SE RACING | 2016 |
| Sherco | 300SE RACING | 2017 |
| Sherco | 300SE RACING | 2018 |
| Sherco | 300SE RACING | 2019 |
| Sherco | 300SE RACING | 2020 |
| Sherco | 300SE RACING | 2021 |
| Sherco | 250SE FACTORY | 2021 |
| Sherco | 300SE FACTORY | 2021 |
| Sherco | 250SC FACTORY | 2021 |
| Sherco | 300SC FACTORY | 2021 |
| Sherco | 250SE RACING | 2022 |
| Sherco | 300SE RACING | 2022 |
| Sherco | 250SE FACTORY | 2022 |
| Sherco | 300SE FACTORY | 2022 |
| Sherco | 250SC FACTORY | 2022 |
| Sherco | 300SC FACTORY | 2022 |
| Sherco | 250SE RACING | 2023 |
| Sherco | 300SE RACING | 2023 |
| Sherco | 250SE FACTORY | 2023 |
| Sherco | 300SE FACTORY | 2023 |
| Sherco | 250SC FACTORY | 2023 |
| Sherco | 300SC FACTORY | 2023 |
Products from the same category