2022 TM Racing EN250Fi 4T / EN300Fi 4T Xtrem skid plate - Black
Reference AX1625
In stock
2022 TM Racing EN250Fi 4T / EN300Fi 4T Xtrem skid plate - Black
TM Racing EN250Fi 4T - EN300Fi 4T skid plate with linkage guard -1.3Kg - 30 to 40% lighter than alloy plate and made of High density polyethylen 8mm thick, the Xtrem skid plate provides a real protection against impacts or falls. The water pump is covered, the frame is protected until the footpegs as well as the linkage. No vibrations, no deformation and only 2 screws at the front with 2 plastic mounts at the rear for a quick fitting and removing. A bashplate is a consumable and will be only warrantied in case of premature break. Made for TM Racing EN250Fi 4T – EN300Fi 4T. WARNING this reference does not fit all model years
Check compatibility with my bike
Consult the general conditions of sale.
Select your bike to discover the compatible products
Don't hesitate to share and follow !
Compatibility with other accessories
Fitment and compatibility with any other accessory not listed above cannot be guaranteed with your purchase. Any changes made by you are your sole responsibility and cannot be taken care of afterwards.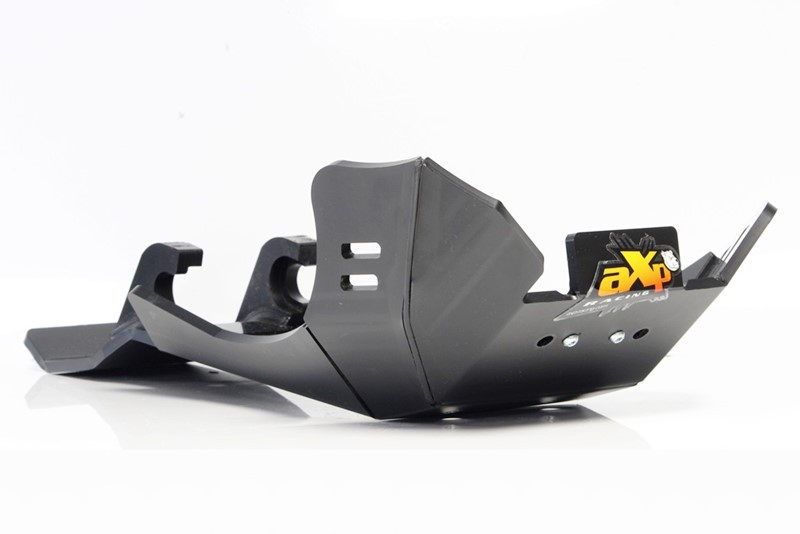 | Selection | Brand | Type | Year |
| --- | --- | --- | --- |
| | TM Racing | EN250Fi 4T | 2022 |
| | TM Racing | EN300Fi 4T | 2022 |
| | TM Racing | EN250Fi 4T | 2023 |
| | TM Racing | EN300Fi 4T | 2023 |
Select your bike to discover the compatible products