2018 - 2022 Husqvarna / KTM / GasGas Enduros Radiator Braces - Black Spacers
Reference AX1449
In stock
2018 - 2022 Husqvarna / KTM / GasGas Enduros Radiator Braces - Black Spacers
Husqvarna / KTM / GasGas Enduros Radiator braces. Weight : 0.4 Kg. AXP Racing radiator guards are a front protection for your radiators. Fits on the 4 front oem points, it will increase the resistance in case of fall, Aluminium 4mm thick - The complete hardware is included in the package - Fits on ...
Check compatibility with my bike
Consult the general conditions of sale.
Select your bike to discover the compatible products
Compatibility with other accessories
Fitment and compatibility with any other accessory not listed above cannot be guaranteed with your purchase. Any changes made by you are your sole responsibility and cannot be taken care of afterwards.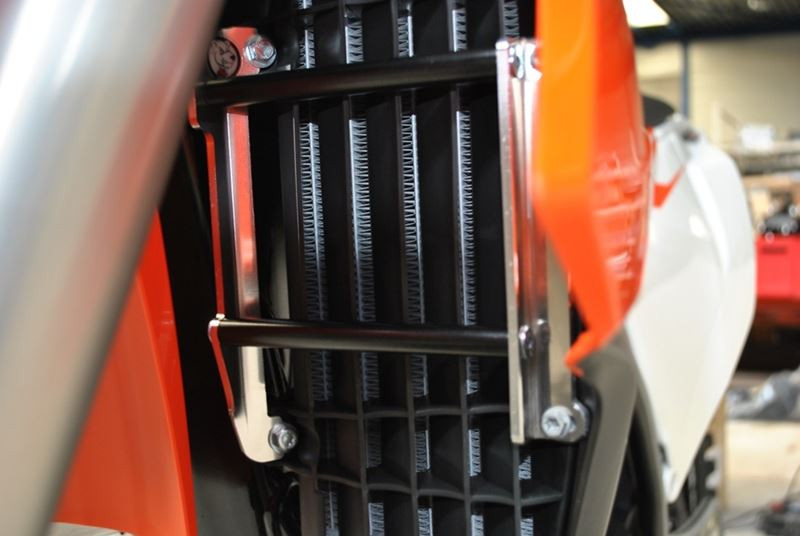 | Selection | Brand | Type | Year |
| --- | --- | --- | --- |
| | Husqvarna | TC125 | 2018 |
| | Husqvarna | FC250 | 2018 |
| | Husqvarna | FC350 | 2018 |
| | Husqvarna | FC450 | 2018 |
| | Husqvarna | TX300 | 2018 |
| | Husqvarna | FX350 | 2018 |
| | Husqvarna | FX450 | 2018 |
| | Husqvarna | TC250 | 2018 |
| | Husqvarna | TE250 | 2018 |
| | Husqvarna | TE300 | 2018 |
| | Husqvarna | FE250 | 2018 |
| | Husqvarna | FE350 | 2018 |
| | Husqvarna | FE450 | 2018 |
| | Husqvarna | FE501 | 2018 |
| | KTM | 125SX | 2018 |
| | KTM | 250SX | 2018 |
| | KTM | 250SXF | 2018 |
| | KTM | 350SXF | 2018 |
| | KTM | 450SXF | 2018 |
| | KTM | 250EXCF | 2018 |
| | KTM | 350EXCF | 2018 |
| | KTM | 450EXCF | 2018 |
| | KTM | 350XCF | 2018 |
| | KTM | 450XCF | 2018 |
| | KTM | 250EXCF | 2019 |
| | KTM | 350EXCF | 2019 |
| | KTM | 450EXCF | 2019 |
| | KTM | 500EXCF | 2019 |
| | Husqvarna | FE250 | 2019 |
| | Husqvarna | FE350 | 2019 |
| | Husqvarna | FE450 | 2019 |
| | Husqvarna | FE501 | 2019 |
| | KTM | 250EXCF | 2020 |
| | KTM | 350EXCF | 2020 |
| | KTM | 450EXCF | 2020 |
| | KTM | 500EXCF | 2020 |
| | Husqvarna | FE250 | 2020 |
| | Husqvarna | FE350 | 2020 |
| | Husqvarna | FE450 | 2020 |
| | Husqvarna | FE501 | 2020 |
| | KTM | 250EXC TPI | 2019 |
| | KTM | 250EXC TPI | 2020 |
| | KTM | 300EXC TPI | 2019 |
| | KTM | 300EXC TPI | 2020 |
| | KTM | 150XCW TPI | 2020 |
| | KTM | 150XCW TPI | 2021 |
| | KTM | 250EXC TPI | 2021 |
| | KTM | 300EXC TPI | 2021 |
| | KTM | 250EXCF | 2021 |
| | KTM | 350EXCF | 2021 |
| | KTM | 450EXCF | 2021 |
| | KTM | 500EXCF | 2021 |
| | Husqvarna | FE250 | 2021 |
| | Husqvarna | FE350 | 2021 |
| | Husqvarna | FE450 | 2021 |
| | Husqvarna | FE501 | 2021 |
| | KTM | 150EXC TPI | 2020 |
| | KTM | 150EXC TPI | 2021 |
| | KTM | 250XCW TPI | 2019 |
| | KTM | 250XCW TPI | 2020 |
| | KTM | 250XCW TPI | 2021 |
| | KTM | 300XCW TPI | 2019 |
| | KTM | 300XCW TPI | 2020 |
| | KTM | 300XCW TPI | 2021 |
| | KTM | 350XCFW | 2019 |
| | KTM | 350XCFW | 2020 |
| | KTM | 350XCFW | 2021 |
| | KTM | 500EXCF | 2018 |
| | KTM | 500XCFW | 2018 |
| | Husqvarna | FE350S | 2018 |
| | Husqvarna | TE125 | 2018 |
| | Husqvarna | TE125 | 2019 |
| | Husqvarna | TX125 | 2018 |
| | Husqvarna | TX125 | 2019 |
| | KTM | 125EXC | 2017 |
| | KTM | 125EXC | 2018 |
| | KTM | 125EXC | 2019 |
| | KTM | 125XCW | 2017 |
| | KTM | 125XCW | 2018 |
| | KTM | 125XCW | 2019 |
| | KTM | 250EXC | 2018 |
| | KTM | 300EXC | 2018 |
| | KTM | 250XCW | 2018 |
| | KTM | 300XCW | 2018 |
| | KTM | 250EXC TPI | 2022 |
| | KTM | 300EXC TPI | 2022 |
| | KTM | 250EXCF | 2022 |
| | KTM | 350EXCF | 2022 |
| | KTM | 350XCFW | 2022 |
| | KTM | 450EXCF | 2022 |
| | KTM | 500EXCF | 2022 |
| | KTM | 250XCW TPI | 2022 |
| | KTM | 300XCW TPI | 2022 |
| | KTM | 150XCW TPI | 2022 |
| | KTM | 150EXC TPI | 2022 |
| | Husqvarna | FE250 | 2022 |
| | Husqvarna | FE350 | 2022 |
| | Husqvarna | FE450 | 2022 |
| | Husqvarna | FE501 | 2022 |
| | Husqvarna | TE250I | 2019 |
| | Husqvarna | TE250I | 2020 |
| | Husqvarna | TE250I | 2021 |
| | Husqvarna | TE250I | 2022 |
| | Husqvarna | TE300I | 2019 |
| | Husqvarna | TE300I | 2020 |
| | Husqvarna | TE300I | 2021 |
| | Husqvarna | TE300I | 2022 |
| | Husqvarna | TX150I | 2020 |
| | Husqvarna | TX150I | 2021 |
| | Husqvarna | TX150I | 2022 |
| | Husqvarna | TE150I | 2020 |
| | Husqvarna | TE150I | 2021 |
| | Husqvarna | TE150I | 2022 |
Select your bike to discover the compatible products